Dear visitor,
My name is Joe Kennedy. I'm an Englishman, a teacher and grandfather of five children. I have been living and working in Germany since 1975. For 13 years I was jointly responsible for a youth- training program for disadvantaged teenagers who were unemployable.
What we did together with these teenagers was to train facets of social behaviour: e.g. self-discipline, cooperative behaviour, initiative and tenacity; and then measure their individual progress as they matured.
This program was a great success. Over 80% got a job after leaving, although and more to the point: none of these teenagers could spell correctly, or ever read a book. No one ever took a book out of the library! The best of them could not master simple arithmetic and many were driven to distraction.
Then, in 1991 I decided enough was enough! I then set up my own private after-school tutorial school for all school types (6 – 18): The Kennedy-School Tuttlingen. Despite our best efforts, we still could not achieve any measure of success with regard to spelling, reading ability (across the languages) and the "freestyle" – not learning by rote, application of basic mental arithmetic – déjà-vu!
The intelligence score of these pupils proved to be irrelevant.
Last but not least, we observed that too many children had chronic difficulty in directing their attention.
It seemed we tried almost every method in the world of instruction to overcome these difficulties, with little success, other than training the pupils to learn by memorisation.
However, not all our efforts were for naught. Through this process we were able to gradually uncover and discover that 20% of all individuals in society are affected by these learning disabilities! For people who are trapped in poverty, the score rises to 75%.2
Consequently, in Germany and doubtless in your region too, educational authorities today are under pressure from all quarters to produce good results. Therefore, many have tried to overcome these barriers to academic success by lowering standards. To me that is a totally unacceptable response to the problem. But what else could they do?
That mantra became my passion.
As time went on, we managed to successively overcome these challenges by developing specific tools and a methodology that proved highly effective. Over time we received such superb recommendations from parents, teachers and experts alike, that they seem almost implausible!
These were achieved not only in the Kennedy-School, but also generated by parents at home and teachers in schools through our mail order firm Kreatives Lernen. Read and judge for yourself their reviews on this website.
Recently, my book under the English title "Dyslexia, Prove Teachers and Experts Wrong!", has become available on Amazon. You can access the most relevant chapters on this website free of charge. They will guide you unerringly through the labyrinth of learning disabilities.
The book's emphasis is on dyslexia, but also shows how to demonstrably
overcome the unholy trinity of dyslexia, dyscalculia and attention deficit
disorder (ADHD). In Germany its title is "Nie wieder Horrordiktate!" and is
in its second edition.
Now the time has come to pass on these tools and my Know-How of these simple and joyfully effective methods to you, your staff and pupils. They produce results that you can measure empirically using my Individual Development Program (IDP) model, with which schools and families can accurately assess the individual child's degree of:
Dyslexia
Dyscalculia
ADHD
and
The above three straightforward assessments make up the building blocks of an Individual Development Program (IDP) that allows you to measure the quantity and quality of the child's possibilities for improvement, in order for them to achieve the advancement which they so richly deserve and, as a rule, achieve.
As a qualified education consultant with 30 years of experience in this field I am looking to co-operate, also on an international basis, with a limited number of schools and related organisations.
If you consider your organisation to be flexible, creative and determined enough to eradicate learning and concentration disabilities simply, effectively and measurably, then please contact me so we can both see if we are on the same page.
I look forward to an invigorating dialogue!
Yours kindly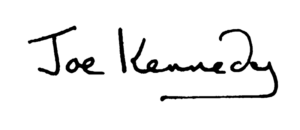 Joe Kennedy